Ever since I rode with my friend John around Swiss-Italian lakes 2 weeks ago I wanted to return and do a loop that goes into Italian valley Centovalli. We had omitted it from our tour because topographical maps were suggesting that there's 2200m of climbing involved and that was outside of our "daily budget". However, so much ascent seemed excessive for an altitude difference of 600m.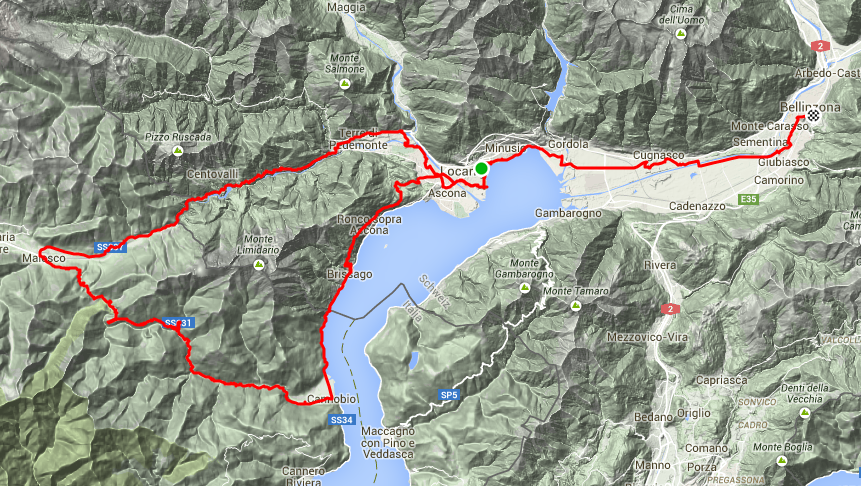 Last Saturday me and my friends Riccardo and Codrin came back to bust this myth once and for all. Turns out that a loop that goes into the valley from Locarno involves just 800-900m of climbing! Since that was too easy for us I added a small surprise at the final half of the route bringing total ascent to respectable 1561m.
Here's a short summary of the ride:
Total distance: 105km
Total vertical ascent: 1561m
Difficulty: medium
We came to Locarno by taking a 07:09 train from Zürich HB.
After a change in Bellinzona we went for coffee and fruity snacks in a local cafe close to the train station. It's called Manora restaurant and it serves delicious and fresh buffet. Both Riccardo and Codrin rode road bikes and were good at it so I had to push a little extra to catch up and skip some of the stops.
The climbing grade was steady. The scenery was spectacular and there were very few cars on the roads.
We got to the top of our route in Finero. On our way down we found a nice restaurant and had 2-course meals. I went for tagliatelle with mushrooms and a medium-rare steak. The food was delicious and despite being filling we did not get bloated.
The road along the lake was not busy and the breeze from water felt refreshing. To make things a little more interesting we went on a de-tour that involved an additional 300m climb with a rather steep grade. Since at that point we stopped talking I conclude the climb was met with due respect. The climb rewarded us with views on the lake.
On a descent to Locarno I felt wiggling of the front wheel. On one of the hairpins I almost lost balance of the bike and went slightly into the opposite lane. I had a puncture but the air was escaping steadily. I decided to fix it once we got to Locarno.
In Locarno Riccardo left us and went to see his girlfriend's family who were visiting the region. Me and Codrin continued to Bellinzona in a fast pace to make it to the next train.
If you haven't yet ridden this route I suggest you take a train and do it. The views alone are worth it.
For the full photo album head over to my Flickr gallery.