After gruesome 27+ hours of cycling I feel elated to announce that I have successfully completed the challenge! I have cycled non-stop for 420.8 kilometers, climbing 4953 metres worth of hills and obstacles along the way. The ride has been the greatest physical challenge I've done in my life. The longest non-stop hike goes to 2nd place now.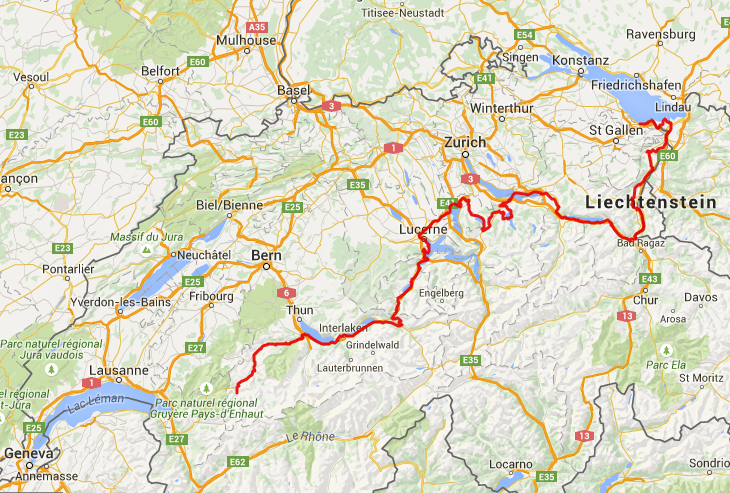 Here's a short summary of the ride:
Total distance: 420.8km
Total vertical ascent: 4953m
Difficulty: extreme
Strava and direct GPS track download
That's me before the ride, view from the balcony:
Planning and preparation
The idea to set a new personal cycling distance record came to me rather unexpectedly while me and my wife were visiting Rodos last week. You see, relaxing beach vacations are not my thing. I suppose a 400km ride is a complementary yan for the beach vacation yin.
I haven't obsessed over planning the route. I consulted the Swiss national cycling network and picked the easiest (in terms of elevation changes) one that was long enough. I decided on route number 9. Since the route was 100 kilometers too long I left out the first two sections.
I studied the map and the elevation chart. I have split the whole route in three major sections to make it digestible to my fragile and wimpy mind:
the hardest 170 kilometers, involving a fair amount of climbs at night
medium-difficulty 80 kilometers, mostly already familiar to me
the easiest and flattest remaining 170 kilometers
A long ride requires sufficient nutrition. Strava has estimated that I have burned 16k calories. Insufficient hydration and nutrition guarantee failure and muscle cramps. Prior to departure I stuffed two large meals into myself. I also purchased plenty of sport bars and drink mixes. In addition, I carried few fruits and sausages:
Finally, I asked for live support from my friends. You offered priceless cheering. Without your support I would have given up!
Transit
Getting to the starting point took me almost 4 hours, 3 trains and a bus. I had to leave home at about 18:15 to get to Gstaad at 22:30. I started the ride at night to tackle climbs while I was still fresh and unencumbered with sleep deprivation. I wish I could have slept more before the ride but the excitement prevented me from dozing off.
The first section
First section of the route was meant to be difficult and involve a fair amount of hill climbing. Even though I knew the elevation chart the route felt more demanding than I expected. The first few kilometers were especially unpleasant and I had all sorts of negative thoughts in my head. Darkness, headaches and a slight nausea did little to improve the mood. To fool myself I pretended that I'm going to go home once the first section is over.
At about 5 in the morning, as the sun was slowly rising behind mountains, I climbed Brünig pass. Getting over the pass broke a psychological barrier. I knew that the worst uphill is over even as the elapsed distance was still insignificant.
At some point I felt really sleepy and decided to take an hour nap on a bench in a forest. I've managed to get 30 minutes of sleep as the body was all too excited to rest for too long.
The second section
By the time I finished the first section I realized that I am hopelessly behind the original optimistic estimates. I was already 2 hours behind. Making it on time for the last train back home quickly morphed into an unrealistic fantasy. Fantasies are better suited for sitting at home with a cup of warm tea in front of a fireplace.
Predictably, I could not imagine riding the remaining 250 kilometers. I fooled myself again into cycling to the end of second section where my wife met me for lunch in a cafe. To make up for the slow speed I pushed really hard to finish by 16:00.
At the top of the last hill before a speedy descent into Pfäffikon I met a Swiss couple who were leisurely cycling and appreciating the scenery. After a quick exchange of pleasantries the man asked whether I'm "genießen" (enjoying) my ride. His tone and posture made me imagine him with a glass of fine whiskey and a cigar: "Sir, are you enjoying the splendid surroundings of Schwyz?". "Most certainly, what an exquisite enjoyment it is".
Pushing hard payed off as I remarkably arrived at 16:00 sharp! I gulped down a few glasses of delicous lemonade and ordered a main course.
The final section
Less than a half remained and I spinned enthusiastically. I went fast for about 4 hours before breaking down again. A proper meal feels substantial compared to sugary drinks and sport bars that burn out quickly and leave a sore aftertaste. I stopped for a quick meal at McDonalds and continued to the final 6 hour stretch.
Surprisingly, my leg muscles did not show any signs of exhaustion. My ass, on the other hand, hurt as hell! I suppose no matter how great a bicycle seat is it's no match for 27 hour rides. The pain is unavoidable. Moving around just makes things worse.
I started to have hallucinations. I found a good solution: to focus on the road and avoid looking at any objects, especially if the objects seem interesting.
The final 10 kilometers felt like an eternity: so far no matter how close. Time perception gets really distorted in moments like these.
Arrival and going home
I arrived at 01:45 in the morning to the city of Rorschach. As most German or Swiss towns it was completely dead and quiet at night. The first train left at 05:40 and none of the hotels had a 24-hour reception. I went to the train station and parked my bike next to a bench and tried to stay warm. I was uncontrollably shaking because my clothing was too thin for sitting still. The good thing about sleep deprivation though is that it makes time fly. Every time I peaked on my wristwatch from waking up from cold the time advanced 30-40 minutes. Time flies when you're sleep deprived!
Impressions
It has been an extraordinary ride. I would have never completed it if I knew all the gory detail of the terrain or that 15-20% of roads were unpaved. More than anything, it has been a battle with the mind. My mind was endlessly coming up with excuses to make a stop to end the suffering. But there was only one good way to stop the suffering: get to the destination. At that is achieved by spinning faster and not by having stops every 5 minutes.
When I arrived in the middle of night at the destination shaking from hypothermia I was thinking of a warm bed, food and my beloved wife. In that moment I truly appreciated how much a place called home means to me. I wanted to go back to the beach vacation I berated so much…
But a good night sleep clears up even the muddiest minds. As soon as I woke up fresh and rested I dismissed the mumbo jumbo and started to plan another adventure. Challenge is an indispensable part of my identity and it's about time I finally learn it.